ANTHONY GIANNOTTI: OWNER OF BOTTLE & BARLOW; ANTHONY'S BARBERSHOP SACRAMENTO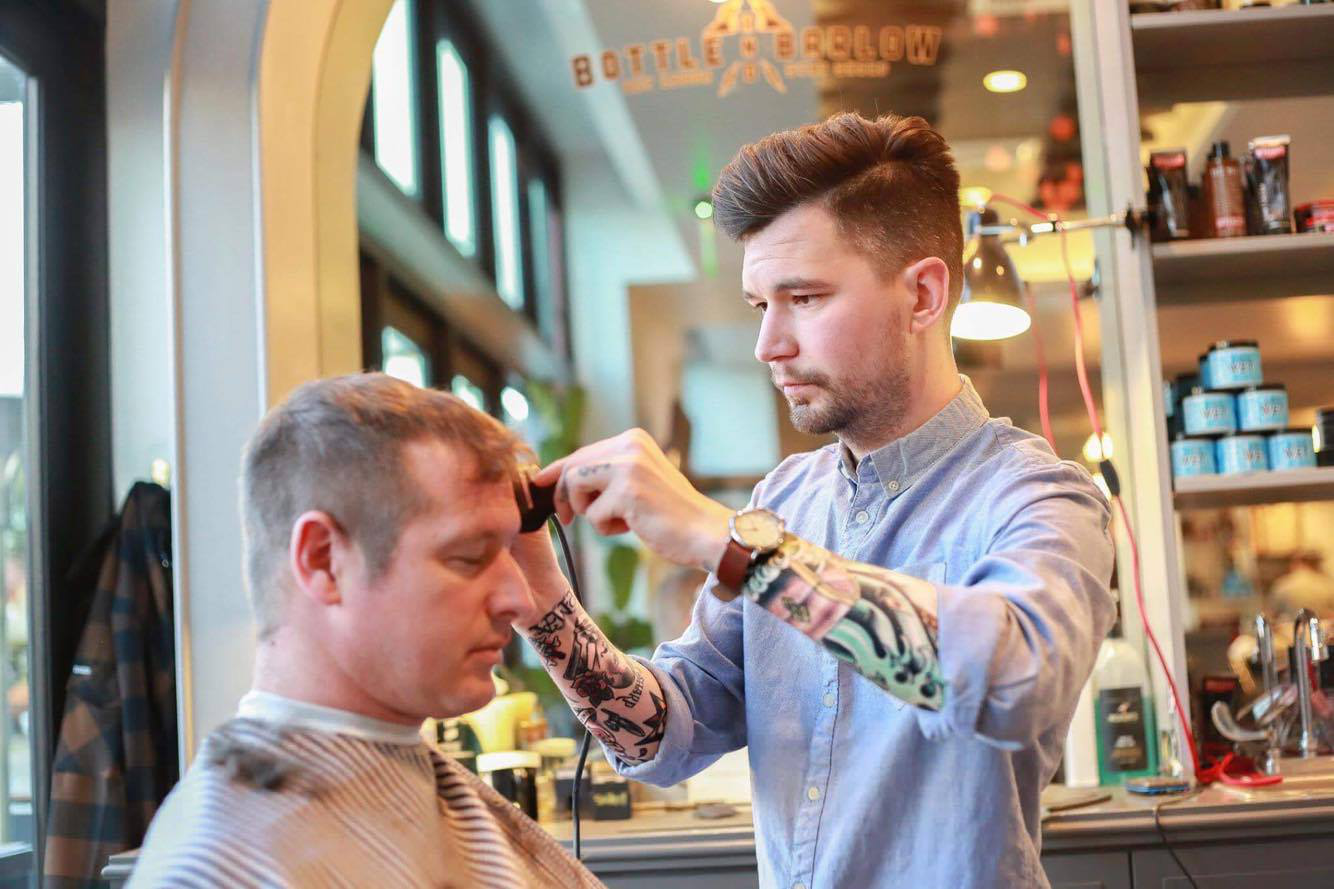 Have you always been interesteded in hair?
I haven't always been interested in hair. I've always been interested in style and fashion but my hair passion didn't come until my late teens.
When did you first realize that you wanted to be a barber?
I got into the industry a little different. At 19 years old I started making my own hair product in my kitchen and selling it on Myspace.com. After graduating college my family decided to sell our automotive business and I took that as a sign to actually go ahead and go back to school to be a barber. I've been licensed since 2006.
What are your favorite and least favorite parts about being a barber?
My favorite part about being a barber is being in the barbershop. The barbershop is a meeting place for the community full of jokes and good fun. I get to hear all sorts of different stories and life experiences from a very wide variety of people I probably wouldn't meet if I worked in a cubicle. My least favorite thing would have to be when people talk down to me because they think I don't have a "real" job.
What are your "go to" products for yourself and your clients?
My go to product for myself and for my clients has to be my new product line Victory Crown Barber Company, slick (pomade) and matte (clay putty).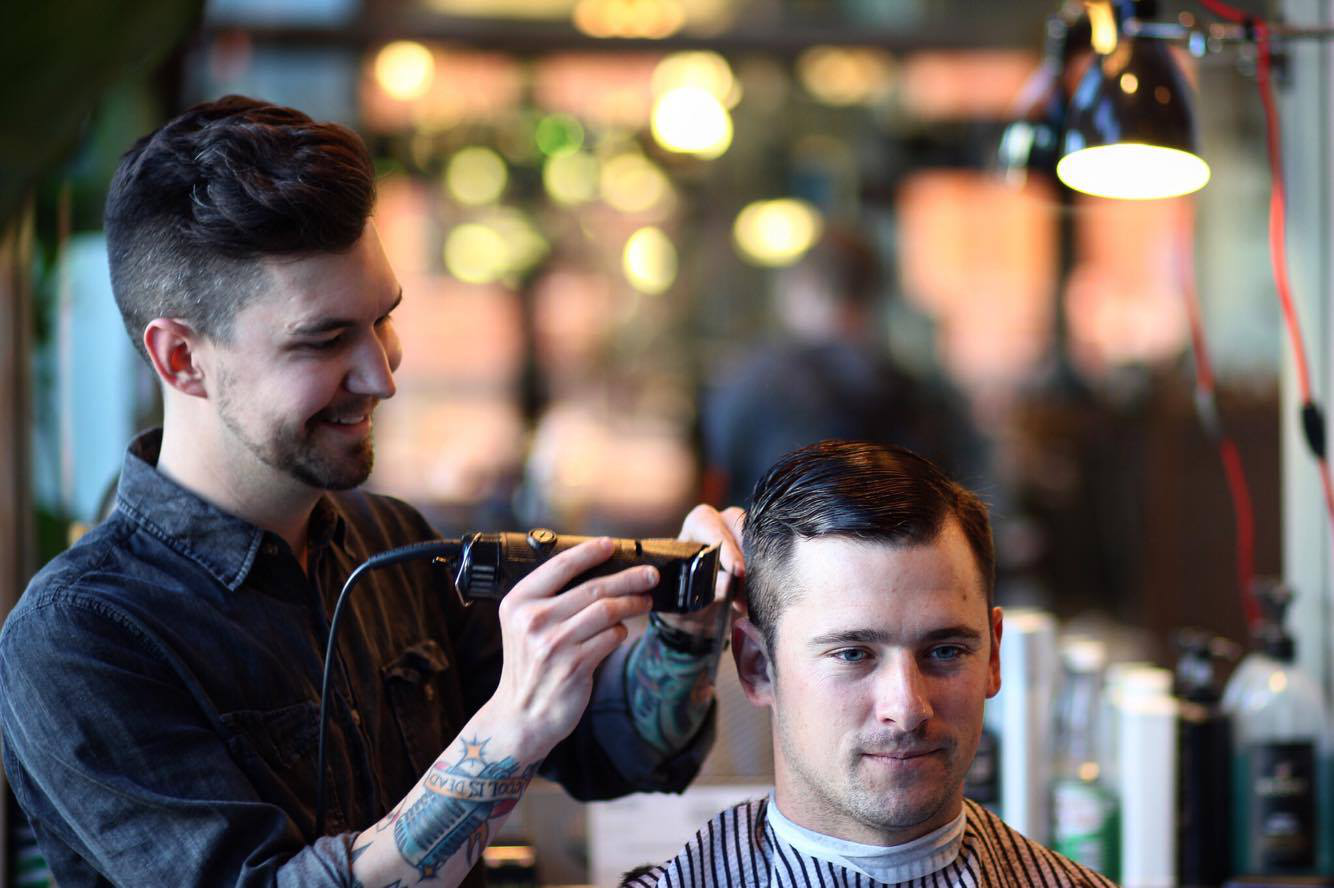 Would you say that you set out to elevate or change the barber game?
I don't think I set out to elevate or up the barber game. I just cut how I cut and try to help others. That's what I enjoy about teaching; I get the chance to help other barbers and stylists up their game. I also do shout outs for barbers and stylist with under 10k followers every Thursday from my Instagram page @anthonythebarber916.
Do you have a signature style for yourself and your clients?
I got into cutting hair because I really loved the 50's rockabilly scene. So, when the side parts and pompadours hit a few years ago I already knew how to do them fairly well. I'm pretty known for those cuts but after 10 years I can do any barber cut and really just enjoy giving customers the cut they want. I still really love the 50's look. I've even had a side part or pompadour for 15 years. A few months back a guy tried to insult me by calling me hipster Elvis. I took it as a complement and said, "Finally someone gets my style".
Do your clients ever give you free-reign on their hair?
People try to give me free-reign on their hair all the time! That's a really tough thing to do because I don't know what you're going to think is cool or not. You have to look right to you. As barbers or stylists we're not here to dictate style or tell you what's cool. We're here to help you decide what would look best on you for you.
Do you have any advice for up and coming barbers?
I teach all over the country and I tell people the number one thing that will make them successful in this industry is consistency. Consistently be at the shop, give hair cuts with consistency. If you're not at the shop or you do a hair cut well one time but mess it up the next time, people won't come back to you.
Give us a quick story of one of your most memorable cuts.
I got a text from a friend that needed someone in the Bay Area to do a cut for a celebrity. Turns out it was Hunter Pence, my favorite player on my favorite baseball team the San Francisco Giants. I had a ticket to the home opener that season and Pence wanted his haircut the next day. I parked my car at my hotel and headed off to the game. Half way through the game the hotel called to tell me my car was gone. I had all my hair cutting equipment in the trunk. After some frantic calls it had gotten towed so after the game I had to go to the police impound to get my car. A hefty check later I had my stuff back. The next day went to Pence's high-rise apartment. After a few security checks and a security escort to his door, he greeted me with a big smile. Standing in his living room drinking coffee, we talked about what kind of style he wanted. He looked at my cup and said, "Black coffee? Dude, we are so much alike." I cut his big curly Afro off in his bathroom with his girlfriend, brother, and sister-in-law watching. That's how I became the San Francisco giants barber.
[Images: Jason Dunn]