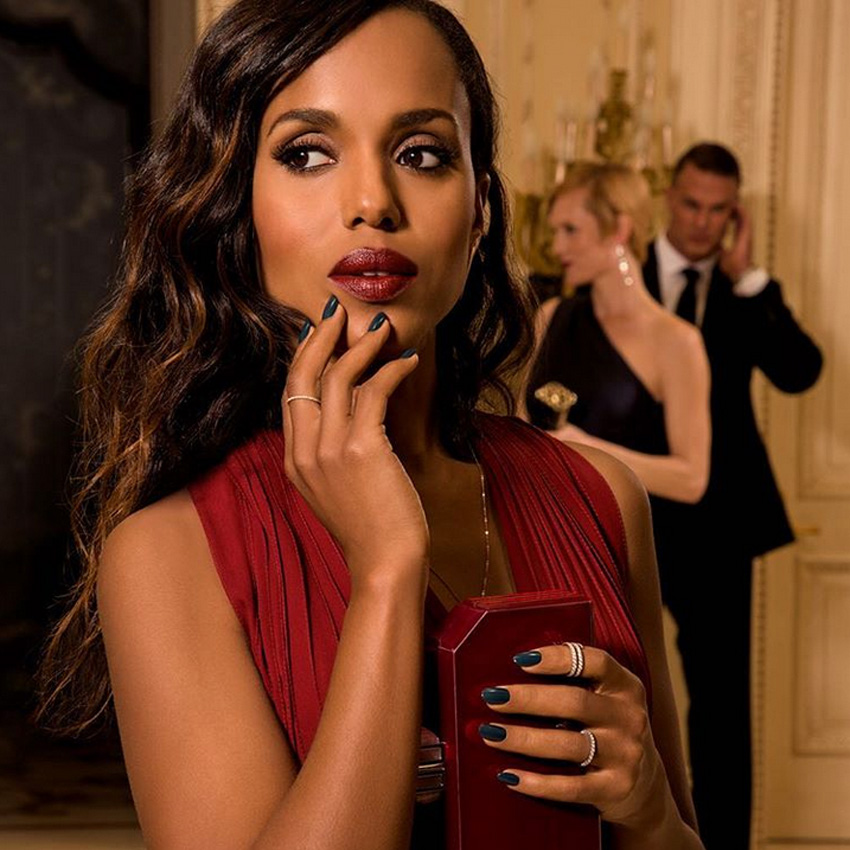 To celebrate the launch of her fall/winter 2016 collection with OPI, Kerry Washington joined the beloved polish brand at ULTA Beauty in Los Angeles for a meet-and-greet with fans on Wednesday, August 24th. The aptly-named Washington DC collection - OPI's first collaboration with an actor - is a gorgeous set of hues, ranging from a deep plum purple (Kerry Blossom), to show-stopping golden yellow (Never a Dulles Moment), to a modern and inclusive take on nude (Inside the ISABELLEtway).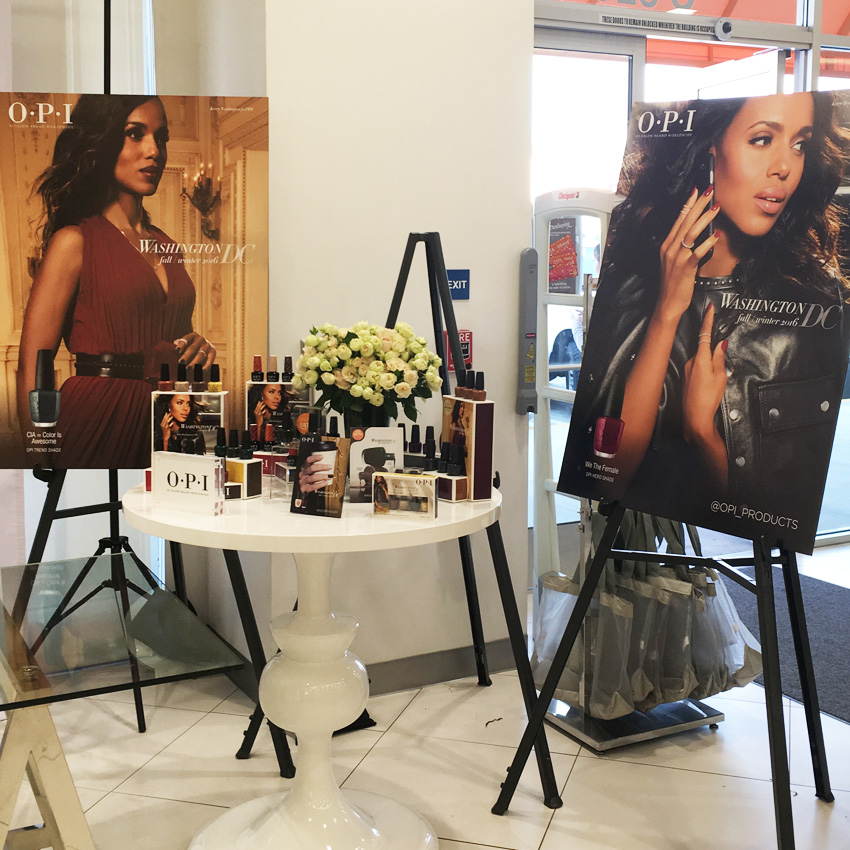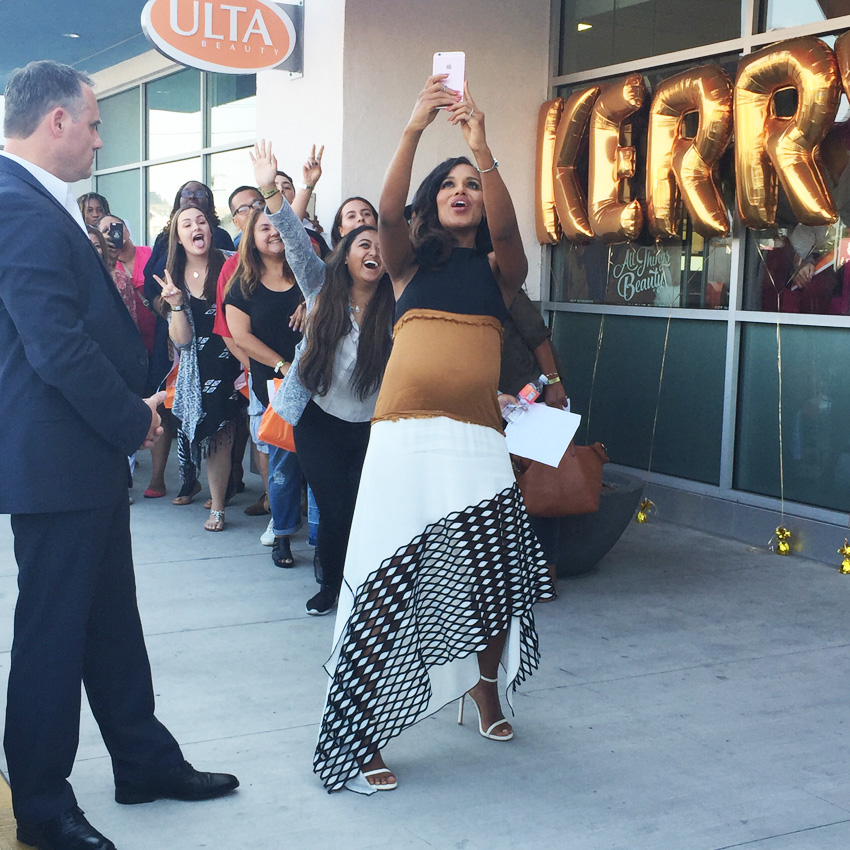 During the event, Beauty Launchpad had the opportunity to sit and chat with Kerry about the exciting collaboration. The Scandal star shared her thoughts on the power of polish, her favorite hues, and why this collection works for every skin tone.  
Beauty Launchpad: Why do you love working in the nail arena?
Kerry Washington: I love working on nails because I feel like it's the crossover space where accessories meet beauty. It's kind of the middle ground between beauty and fashion. It's such an accessible accessory. I love that, and I love that it's an affordable way to have a little piece of luxury in your life.
LP: What's your best beauty advice?
KW: Drink a lot of water and get a lot of sleep! There's nothing you can buy over the counter to replace those things.
LP: What was your favorite thing about naming the polishes in your collection?
KW: I like that we really tried to go with names that were fun like Yank My Doodle (That one was all [OPI co-founder and brand ambassador, Suzi Weiss-Fischmann]'s idea, not mine!) and also names that would have real resonance and meaning to me, like Inside the ISABELLEtway and We The Female.
LP: What's your favorite way to relax and pamper yourself?
KW: I really love massage—that's my favorite splurge, I'm a big massage girl. Growing up, it was really about mani-pedis. I didn't grow up with a lot of money, but my mom always had her nails done. And my mom's not a high fashion person, she's a retired college professor, really very classically elegant. But she always had her nails done. I think for her, it was less about looking a certain way, although obviously it made her look polished, but it was more about her time and trying to be good to herself. That little bit of massage, that little bit of elegance, that little bit of her saying 'I'm going to do something special for me,' as a working mom and a professional who could barely carve out time for herself. It was her saying, 'This is my time.'
LP: We love that sentiment: We can really relate to it, and have memories being in the nail salon with our moms growing up! Do you have those memories too?
KW: Absolutely, I really do, they're so special. I love now on social media seeing sisters or cousins or moms and daughters going to get those colors from the collection put on their nails and posting images of themselves. It has a real emotional impact on me, because that manicure-pedicure time is such a way to bond. To bond through self care is really special.
LP: Is the tie to this Washington DC collection a personal or a career connection?
KW: I didn't grow up in DC but I went to college there, and I like to say, I actually worked for the real White House before I worked for the pretend one - I worked for the Obama Administration in 2008. It's inspired by the years I lived in Foggy Bottom at GW and also by my time working at the real White House and the pretend one! It's funny, this year I have Scandal and Confirmation, both based in DC. It's a theme in my life!
LP: Do you have a favorite color in the collection?
KW: It's really hard to pick! I think it's similar to when you buy an album: you buy it initially for one or two songs but the longer you have it, there are more songs you grow to love. I feel like my favorites keep evolving just like that. I do love Inside the ISABELLEtway because it makes me think of my kid, and I love We the Female because of what it stands for, and it's such a beautiful color. I'm super partial to Pale to the Chief and Kerry Blossom. There are just so many of them that I really love. Madame President I love too!
LP: It's almost like you can't pick just one from your collection because they're such a complete set.
KW: It's true. And they're all so different! You can dip into this collection and find something to match whatever mood or occasion, whatever you're trying to create, represent or embody there's a color for you. And also, I'm really proud that every color looks great on every skin tone. That was really important to me when we were testing and picking colors, that every color was accessible to all skin tones.
LP: On that same note, I know you've talked in the past about struggling to find the perfect nude for your skin tone. Tell us a little about that.
KW: I remember shopping with my mom as a kid and being in a drugstore and going through the panty hose section and seeing the word 'nude' and thinking 'That's not what black people look like when they're nude! I don't know whose nude that is, but nobody in my family looks like that when they're nude!' [laughs]. So it came from that idea of working to make sure we were being really inclusive with the idea of 'nude.' I feel that what we've done in our collection is really created two colors on [opposite] ends of the spectrum in Pale to the Chief and Inside the ISABELLEtway. So you really can reach in and, for me especially, find a nude that's really right for me. I thought that was important, and it's one of the reasons one of the nudes is named after my daughter, because I feel like it's her color after she's been swimming all day—sunkissed and imperfect! But also I love to wear a traditional nude, which is the more pale color like in Pale to Chief. It wasn't about excluding anybody's nude but trying to be more inclusive.
LP: And finally, for all the women out there who are in leadership roles: what's your number one tip for being a boss?
KW: I think, honestly, listening is as important as talking. It's so important, for me, in the areas where I find myself in a position of leadership, to be open and make sure that communication goes both ways. To be able to listen is really important.
To see Kerry's Washington DC OPI collection, visit opi.com.