"Partnering with an iconic brand like Paul Mitchell is close to my heart, as my mom was a hairdresser growing up. I loved seeing her transform clients' hair, put a smile on their face, and leave them happy and ready to rule the world," she says.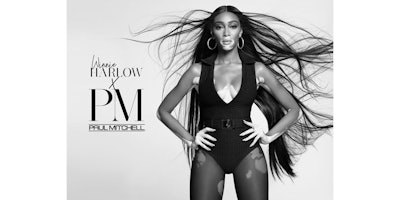 The brand's 2021 campaign, shot by renowned photographer Micaiah Carter, celebrates the power of self-expression through hair, inspiring consumers to embrace their distinct beauty and explore their personal style.
JPMS has also announced César DeLeön Ramirêz, Harlow's hairstylist, as brand ambassador. His work has graced several covers and spreads in leading magazines such as W, Elle, Vogue, Harper's Bazaar and GQ. He is a 2020 Hollywood Beauty Award winner and has a long list of celebrity clients including Ciara, Kylie Jenner, Kim Kardashian, Ariana Grande and more.
"Winnie is a remarkable woman who inspires people to be fearless and live beautifully. She truly exemplifies our ethos and we are thrilled to welcome her to the Paul Mitchell family," says Michaeline DeJoria, JPMS vce chairman.
The Winnie Harlow x Paul Mitchell campaign will be featured across media platforms and paulmitchell.com.