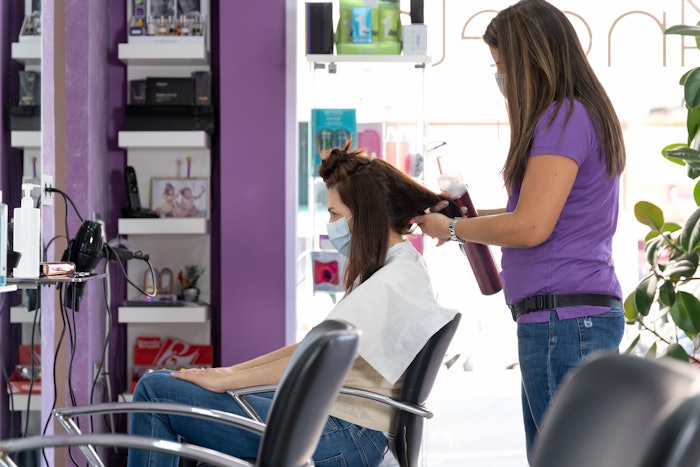 The Professional Beauty Association (PBA) 
published a survey of licensed beauty professionals to help the salon industry inform stylists and consumers that salons are safe. 
The PBA found that salons across the country follow strict safety protocols and that there is limited evidence that the salon industry contributes to the spread of COVID-19. 
PBA surveyed 2,532 salons, which represented 19,392 licensed beauty professionals and services for more than 2 million+ clients since reopening.
Of the 2 million+ clients, only 0.07 percent reported testing positive for COVID-19 within 14 days of visiting a salon.
"We check everyone's temperature when they arrive for their appointment. If anyone feels ill, we welcome them to reschedule with no penalty. We have disinfectant at every station, as well as hand sanitizer and Lysol. We encourage touchless payments," says Leilani Lucas of Napa, California. 
"Aside from  maintaining health as the most integral priority, we want to help ensure that the industry is minimally impacted economically. As with so many other industries, the beauty industry has been devastated by the pandemic," says Steve Sleeper, executive director of the Professional Beauty Association. "The salon industry completes sanitization training as part of their licensing and has been using cleanliness protocols for years. Now, with extensive measures in place to protect against COVID-19, we see salons are safe and not helping to transmit COVID-19. The recent survey shows that less than .1 percent of visitors to a salon contract COVID-19 within 14 days, suggesting salons can safely stay open." 
The PBA joined the COVID Relief Now Coalition, and the PPP Forgiveness Coalition, in an effort to work together to seek relief from congress for small businesses and individuals. Salon owners and licensed beauty professionals are encouraged to explore funding opportunities through the SBA as well as state grants that may be available. 
PBA also established its COVID-19 Relief Fund, which has raised more than $1.5M with support from top industry manufacturers including L'Oreal Professionnel brands, Moroccanoil, Henkel Professional Beauty Division, Dyson, and more.